Southeast Wyoming elk hunting is one of the top rated regions to hunt bugling elk in the Rocky Mountains.
We have an abundance of elk with massively growing herds all because we have NO WOLVES OR GRIZZLIES on our private land leases.
We offer 4 hunts that offer a high possibility of getting an additional cow tag. What could be better than going home with two Wyoming elk for your freezer!
Archery hunts are available in September when the bulls will be bugling and heavy in the rut. This is an intense adrenaline adventure for any bow hunter looking for a great Wyoming elk.
Rifle hunts normally run from October to early November, dependent on Wyoming's elk season dates.
The herds that we hunt are resident elk, meaning they live in these areas all year long. In the last several years, we have had a 95% success rate on all elk hunts here in Southeast Wyoming.
We will primarily use 4 x 4's to get you to and from your hunting areas. Most of the hunting will be done on foot. Horses are available to pack, if necessary.
---
Elk Hunt Options
Hunt 1 – River bottom Elk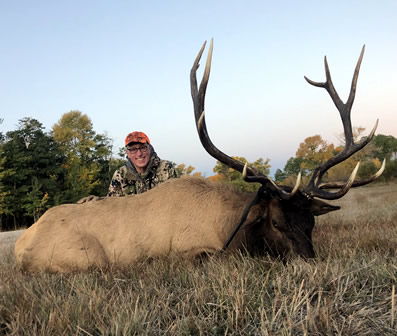 This hunt is in a limited quota area. It will take multiple preference points to draw for this area. Over the last ten years, we have had a success rate of 37 out of 38 from our trophy bull hunters. That is better than a 97% success rate!
This area offers easy navigating terrain, making it one of the easiest and most successful hunts in the state. This area has a high bull to cow ratio making it an archer's dream. You will be spending most of your time glassing rolling hillsides and hay meadows looking for your trophy bull. This hunt affords you the opportunity to stay at our lodge, where you can still have all of the comforts of home.
Hunt 2 – Foothill Elk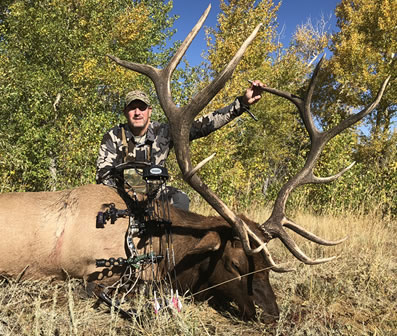 This is a general draw area, making these tags more available than the limited quota zones. However, you will still have to be drawn for this tag. Deadline for the draw is January 31 of each calendar year.
This ranch offers an easy hunt. We have four wheel drive access to all parts of the ranch. It has gentle rolling hills covered with ponderosa and lodge pole pines. The elk herds can range in sizes from 5 to 250, depending on the time of year you choose to hunt. These elk usually stay in the meadows during the morning and evenings and head up to the dense pine for mid-day cover.
Hunt 3 – Mountain Elk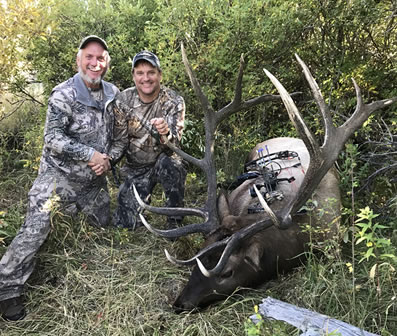 This ranch is the newest addition to the Tyler Sims Outfitting operation. 2012 was the first year we guided on this ranch. Our first year, we had a 100% success on trophy bulls, we knew immediately we could not afford to let this ranch go! Before 2012, this ranch was not hunted for 15 years. The herd size can range from 5 all the way to 250, depending on the time of the year you book your hunt.
We only offer a limited number of hunts on this ranch. This ranch is the most physical elk hunting ranch we have to offer. The rewards will be worth the effort! You can expect to glass rolling foothills, timber parks, and two different drainages. This hunt will offer you the full mountain hunting experience. For this hunt, you will be staying in one of our wall tents with your guide. Our guides will prepare meals for you on the spot. Once you fill your Wyoming bull elk tag, you will be transported back to our main lodge.
Hunt 4 – Prairie Elk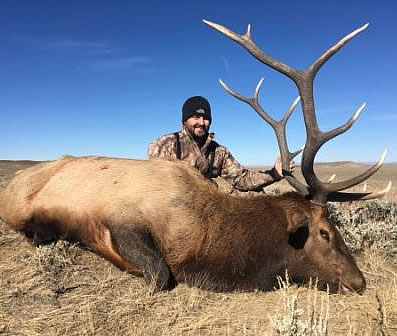 For this hunt you will be taken to a vast ranch that has rolling hills and tall sagebrush. It has multiple grass bottom drainages with stock reservoirs. When you drive by the property and you notice elk you think "Elk should not be here." However, elk were known to be prairie animals until man pushed them into dense forests in the early 1900's. This ranch has had low pressure hunting on it over the last few years making it a dream to hunt on. We are only taking a few hunts on this ranch each year. This ranch only has 10 trees on it and an abundant amount of tall sagebrush.
---
About Elk Hunts
What To Expect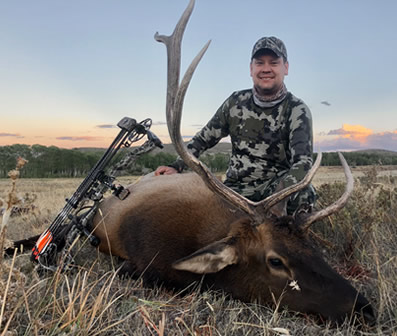 We will eat breakfast before daylight. Immediately following breakfast, we will drive around twenty miles on the highway, county roads, or two tracks to your area.
We will begin to hunt around 30 minutes before sunrise over looking numerous parks, meadows, willowed hillsides, and swamps to find your trophy Wyoming bull elk. When the morning is over, and if the hunt is unsuccessful, we will head back to the bunk house for lunch.
At the bunk house you will have the comfort of television, wireless internet and camp entertainment.
We will allow the elk to stay in their beds for the mid part of the day. We will return back to the field mid-afternoon, and set up before the elk start dropping back into the meadows at night.
Shooting Practice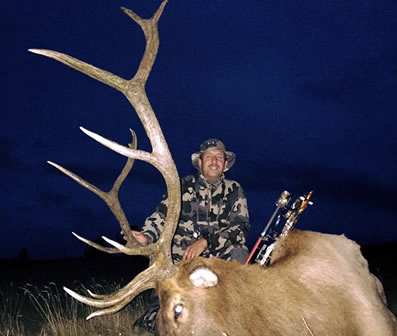 Archery Hunters
Archery hunters plan on shooting the maximum distance of 40 yards. It is very important to practice well before the hunt. Elk are a very tough animal and you will need to make a good lung shot to take down your trophy.
Rifle Hunters
Rifle hunters plan on shooting distances up to 300 yards. Don't bring the biggest gun you can find!!! Bring a gun that you can shoot well. I have seen many 270 Winchesters take down some of the biggest trophies.
Meat Handling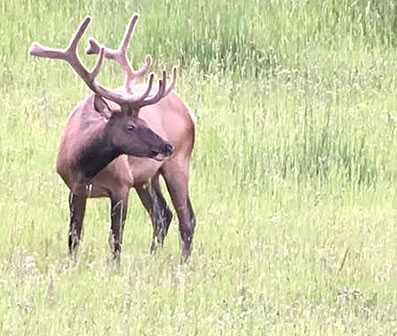 Shipping and handling of meat and trophies is the responsibility of the hunter.
Our responsibility is to haul game to the nearest local locker plant. We will provide assistance, but cannot be held responsible for additional costs such as transportation, shipping expenses, and additional labor.
The processing of meat, that you are not taking home, must be paid for in advance before it can be donated.
Policies (Smoking & Refund)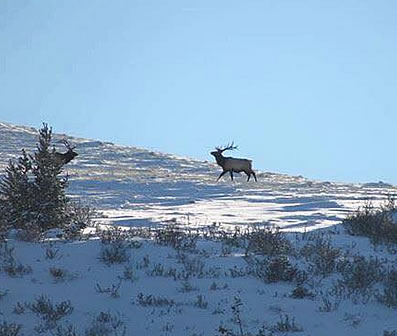 Smoking Policy
We do not allow smoking in the LODGE, CABINS, or any VEHICLE.
Refund Policy
A 50% deposit is required to book hunts. Hunts are booked first come, first served. All money is refundable if license is not drawn. Refund will be sent within 30 days written notice. If license is drawn, no refunds will be given.