Tyler Sims Outfitting LLC offers some of the best Antelope hunting in Wyoming.
Private Land Pronghorn Antelope Hunts!
We would like to welcome you to join us on your Wyoming antelope hunt here in South Eastern Wyoming. We offer private land antelope pronghorn hunts for both archery and rifle seasons. We lease private land in multiple zones and have guided on these ranches for a decade. These zones provide easy license draws due to private land! We offer antelope hunts from mid-August through the end of October. During this time, the antelope rut will be in full swing. This will provide you the opportunity to chase the Wyoming trophy antelope that you have been dreaming of!
Pronghorn Antelope Hunts
Here at Tyler Sims Outfitting, we offer some of the best Wyoming antelope hunting. Our private land leases produce multiple trophies every year. Our antelope hunts offer a 99% success rate. Whether you are a first timer or a seasoned veteran, we have the hunt for you! We offer both archery and rifle hunts during the antelope season. You will have the option of early season archery antelope hunting over watering holes, all the way through antelope rifle season at the end of October. You will have the opportunity of harvesting your personal best antelope, or chasing after one that can land you in the record books! During your antelope hunt, breakfast will be made fresh every morning, you will be provided a lunch portion of your size to take with you to the field. A warm dinner will be served every evening to greet you after a long day in the field. During your Wyoming antelope hunt, you will have the option of staying at our newly renovated lodge, or one of our roomy cabins. Our cabins, located on the same property as our lodge, are equipped with all the utilities and amenities that you would expect your home to have. We offer our antelope hunts with two hunters per guide. If you desire a one on one with some of the finest guides in Wyoming, please request at the time of booking.
---
Antelope Hunt Options
Archery Antelope Hunts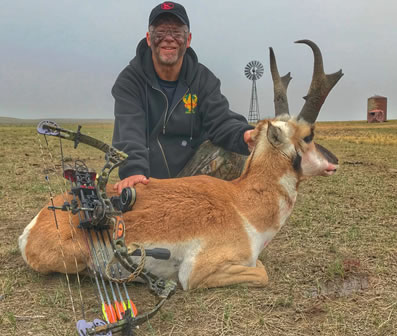 Tyler Sims Outfitting offers some of the best archery antelope hunts around. Since 2011, we have had a 90% success rate.
Our antelope hunts are held in southeastern Wyoming. These hunts are done on private ranches with great antelope populations. We have 25 pop up and plywood blinds set up well before hunters come in. We place these blinds where we have good shooter bucks hitting the watering holes. After we shoot a couple of antelope from one blind we will move that blind to keep the hunting fresh for all hunters who come into camp. In your blind you will have food, water, pop, and ice. A guide will drop you off and stay on the ranch until you either harvest a trophy antelope or evening is approaching.
You will be sitting at watering holes or Wyoming antelope crossings. Plan on shooting 20-40 yards. We do not encourage hunters to shoot any further. The guide ratio will be 2 to 4 hunter per guide.
Rifle Antelope Hunts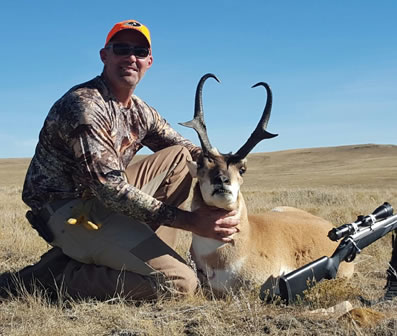 We have an excellent antelope area. Our rifle seasons generally run from the middle of September to the end of October. During this time the rut is in full swing making it easier to stalk the trophy of your choice. The areas we hunt produce excellent trophies and we take the time to manage each private lease to ensure quality antelope every year.
Antelope hunting will be done on private ranches with the use of 4wd vehicles. On your hunt you will see hundreds of antelope each day making it a great hunt for new or young hunters. The whole key to private land antelope hunt is finding the right one for you!
My areas are easy to draw due to a large number of licenses for that area. Most antelope hunts are two hunters per one guide unless one-on-one is requested.
---
About Antelope Hunts
What To Expect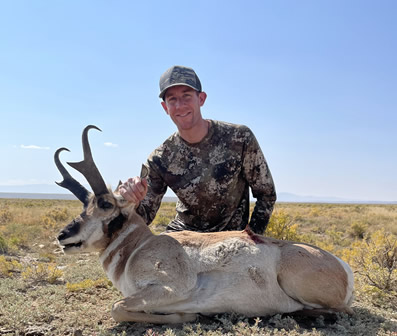 You will start the day off with an early breakfast. Then we will load up in 4×4 vehicles and head out to our hunt areas.
We will glass hundreds of antelope (great for young or first time hunters) until we find the right trophy for you. You can shoot a freak to a Boone and Crockett antelope.
Then, we will eat lunch out in the field and head back to the bunk house for dinner at near dusk. Hot showers, food and tv. Everything you need to relax.
Antelope Facts
Antelope's closest living relatives are giraffes and okapi
Wyoming Antelope bucks weigh 88-143 pounds. Females weigh 75-106 pounds.
Antelope horns are made of keratinous which is shed annually. Yes, that is correct, they shed them every year mid to late November.
Female pronghorns have horns too!!
Wyoming Antelope can run 35mph for 4 miles, 42mph for 1 mile and 55mph for .5 miles making the North American Pronghorn the second fasted land mammal.
Antelope have 300-degree arc of vision without moving their head or eyes.
Wyoming Antelope can detect movement up to 4 miles away. Their vision is like 8x binoculars.
Pronghorn prefer to go under fences however, they can jump but they rarely do.
Meat Handling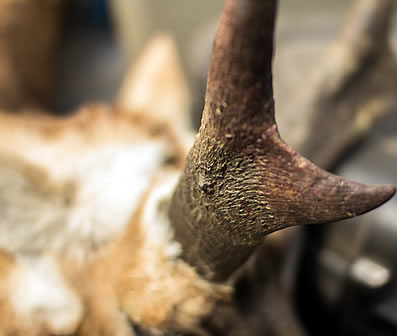 Shipping and handling of meat and trophies is the responsibility of the hunter.
Our responsibility is to haul game to the nearest local locker plant. We will provide assistance, but cannot be held responsible for additional costs such as transportation, shipping expenses, and additional labor.
The processing of meat, that you are not taking home, must be paid for in advance before it can be donated.
Policies (Smoking & Refund)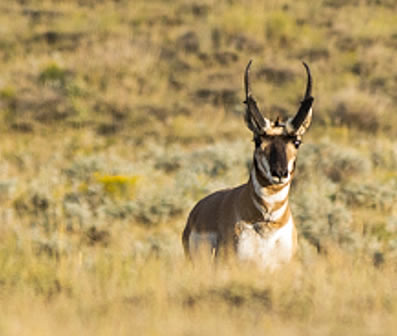 Smoking Policy
We do not allow smoking in the LODGE, CABINS, or any VEHICLE.
Refund Policy
A 50% deposit is required to book hunts. Hunts are booked first come, first served. All money is refundable if license is not drawn. Refund will be sent within 30 days written notice. If license is drawn, no refunds will be given.